Boulder: a Rockies' road to extreme sports, yoga and smoothies
Gateway to the Rocky Mountains, the 'republic' of Boulder, Colorado, is also a bastion of liberal, exercise-crazy freaks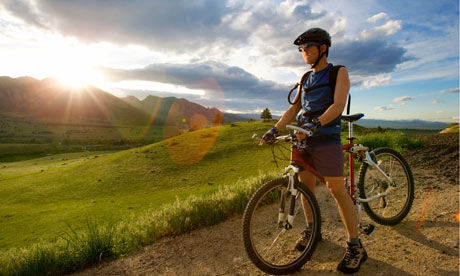 The Republic of Boulder, as Boulder, Colorado, is fondly known, is a town of almost 100,000 people nestled up against the red sides of the Flatirons in the Front Range of the Rocky Mountains. The "Republic" has a reputation for being at once snooty and strange, a combination that works to bring in tourists and keep out the haters, who love to criticise this odd university town for being a bastion of liberal, peace-loving, spiritual, exercise-crazy freaks.
And we are, and are proud of it. Even the preppy country-club conservatives (there are more than a handful) are openly accepted by the town as they, too, study Buddhism and drink green smoothies. So open-minded we can't even hate the haters, Boulderites are known to live on raw foods, drink local gluten-free beer, and have become the poster children for cannabis legalisation: because we are so left of centre, we meet up in the back with the libertarian right and want to live as we please, mountain bike where we will, and go to our chiropractor/acupuncturist/psychic when we need to.
North Boulder is your spot to visit like a local. Start by getting a green juice on Pearl Street at Whole Foods Market and a jar of Zuké pickled beets, by Esoteric Food Company, which is the celebrity pinnacle of the flourishing farmer's market locavore scene here.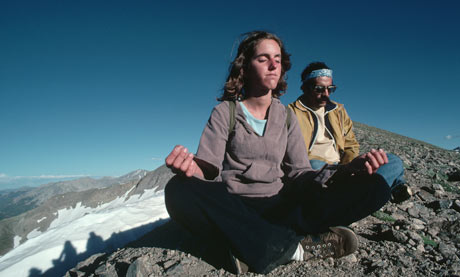 Yoga in Boulder … find some peace amid the extreme sports. Photograph: Annie Griffiths Belt/Corbis
Then head on to a yoga class. The yoga attitude lives large in this town, as does being a professional athlete training at altitude – but that's harder to drop in on.
If you want authentic Boulder, skip the big box yoga places that have popped up and visit the Anjaneya Yoga Shala, a little studio owned by long-time Boulder yoga teacher Jeanie Manchester and run out of her garage. These classes, which will introduce you to yoga, meditation, and real live Boulderites with time in the middle of the day, will make you hungry.
Head for Lucky's Bakehouse and Creamery on Broadway Street and indulge. You can sit out at the front and watch the parking lot, the kids on bikes, the dogs and their walkers, as you sample one of Lucky's renowned cinnamon rolls before you head on the obligatory Boulder hike.
Boulder is about extreme sports: extreme hiking, century (100-mile)bike rides, and skiing your age in days every winter. But everyone loves the Anne U White Trail. Named after Anne Underwood White – an environmentalist, scientist and open-space advocate, who donated 20 acres for the creation of this trail – this is a three-mile trek where you do need to be careful about real Boulder mountain lions as you follow the bed of a creek through a verdant valley.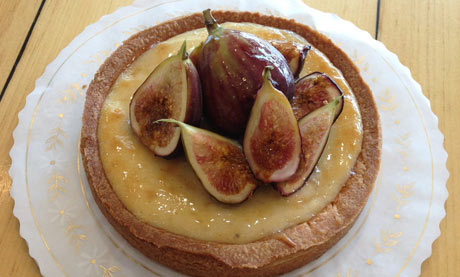 Fig and goat's cheese tart, Lucky's Bakehouse and Creamery
Real locals eat out. A lot. Who you'll spot at the finer restaurants includes families, college students, couples on dates, workers from the funky ad agency with the "Disruptive Thinkers" bus and cannabis capitalists with new money. The people at the next table at Radda, a NoBo Italian fave run by a local who rides to work on his sexy black motorcycle with his dreads flying, are likely to be wearing patchouli and eating an enormous amount of food for obvious reasons.
To fit in you need to … wear yoga clothes, go hippy chic, or settle into real designer clothing. All of which reminds you that Boulder has been invaded by New York and California transplants with money and taste. Luckily, their clothes are resold at Common Threads, an essential stopoff for fashion followers and yogis alike, with consignment clothes curated by the hip 30- and 40-something employees who live in the mountains but like a good label.
Beware Chief Niwot's curse – the one that says once you fall in love with this place you are doomed to spend eternity trying to find a way to live here. That's a modern paraphrase, but it does justice to the strong feeling this place inspires in visitors and locals.
Michelle Auerbach, author of The Third Kind of Horse
http://ozuke.com/wp-content/uploads/2017/05/OZUKE_LOGO_STACKED_BW.png
0
0
Ozuke
http://ozuke.com/wp-content/uploads/2017/05/OZUKE_LOGO_STACKED_BW.png
Ozuke
2013-07-20 16:12:25
2015-08-06 21:20:21
Ozuke and Boulder Shout Out in The Guardian UK